How to get around Toronto without a car sounds like it, but it's true. You can get around Toronto without a car. Here are some tips and tricks to help you get around Toronto without a car. You can find out more about these by looking at the article below. It includes everything from using the TTC (Tram) to renting a bike or riding a bike share program.
First, you need to know what transportation options are available in Toronto, and knowing their routes will help you get around. Where will the subway stop, at which stops, and when will it spread? If you are thinking of traveling by public transport, then you need to know the route of public transport.
Then you can get around Toronto without a car without any hassle. Today, this post will inform us about various transport routes and ticketing websites.
To travel without a car, you need to decide your destination. A proper plan should be made for the trip. This will help you identify the modes of transportation that will be needed to reach your destination.
How To Get Around Toronto Without A Car? Best 9 Away
Toronto is one of the most congested cities in Canada. There is heavy traffic, especially during office hours and holidays. In fact, Toronto was ranked the third worst city overall for traffic in North America. As a result, finding an alternative way of transportation has become essential in getting around Toronto.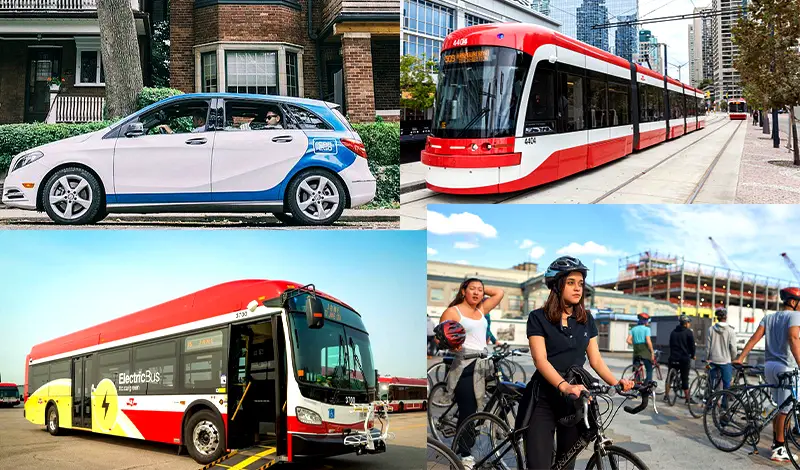 One of the most viable alternative transportation options is public transport. However, there are many different forms of public transport, and it is up to you to decide which one suits you best. You can decide on alternative transportation options depending on where you're going, how much time you have, and whether there are nearby stops for those vehicles.
A proper plan of transportation should be made for traveling without a car. If you're thinking of traveling to Toronto without a car, here are the best ways for you:
1. Subway
The Toronto subway is the most efficient method of public transport. The subway system carries many passengers per day, and it is possible to travel from one end to the other with maximum efficiency. One of the biggest benefits of using this mode of transportation is that you can travel almost everywhere in Toronto without a car.
In this case, the " subway " refers to the underground train network managed by the Toronto Transit Commission (TTC).
The subway comes every minute during peak hours and every 10-15 minutes during off-peak hours. The subway has 4 lines, namely:
Line 1 (Yonge-University),
Line 2 (Blur-Danforth),
Line 3 (Scarborough), and
Line 4 (Shepard).
Transportation cost on the subway is very low, and the one-way fare costs $3.10. You can also buy a day pass for unlimited travel on the TTC for just $12.30, which is valid until 5.30 am the next day.
Seniors (65+) on the subway pay half the regular fare during off-hours. Also, rides are free Monday through Friday before 6 am and after 9 am all day on weekends and holidays. In addition, children under 12 always travel free when accompanied by an adult.
Also, if you use a Presto card, you get more discounts on monthly passes. You can register your card online to avail this discount and check your account balance online. Visit the Prestor website for details, or click here.
2. Buses & Streetcars
Buses:
Buses in Toronto can be a good choice if you plan to travel between one end of the city and the other. Buses are less crowded and offer service on the most popular routes.
You can also use a Presto card on buses and get discounts on your fare, just as with the subway.
Streetcars:
Streetcars are another great transportation option in Toronto. These old-fashioned street cars connect several stops in the downtown area. They cover major routes and also provide service beyond the city limits.
Streetcars, unlike buses, are quite slow in speed and offer limited stop service. However, they come with distinctive features like seats and Icons, so they are quite distinguishable from a bus, and you can easily identify one when it is heading to your particular route.
You can purchase tickets online or via a machine located at each streetcar stop. Buses and streetcars ply the city's main streets regularly. Depending on your route, you can pay with tokens or get a Presto card before you board. You can take it from the subway or anywhere.
If you don't want to use a Presto card, you can buy a paper ticket from the TTC. But you cannot pay the fare to their drivers. However, this system will cost less.
3. Taxis
Taxis are an excellent means of transport and are commonly used in Toronto. There are several taxi services that charge a flat rate based on the time, distance, and the type of taxi you choose.
You can find taxis anywhere in the city of Toronto. Or you can call the dispatch line or get it at the taxi stand. Taxis usually charge $0.57 for the first 469 feet to a maximum of $4.25. But after 9 pm this cost is slightly higher at the rate of $1.50. The minimum for Tacmi cabs is always $30.
However, when riding in a group of four or more people, an additional charge of $1 per person has to be paid. A few companies offer flat rate cab services in key areas, including city airports.
4. Car
Cars are one of the most convenient but expensive ways of getting around Toronto. The services provided by car rental companies offer you various options when traveling without a car in Toronto. And many companies like Enterprise, Hertz, and Budget also provide their services.
Renting a car is a great way to travel without having to use public transport. Car rental services offer a wide range of passenger cars, SUV's & minivans for customers' use which you will drive, and provides all-inclusive services like GPS & unlimited kilometers.
If you are visiting Toronto, it will be convenient for you to rent a car. You can easily get from one end of the city to the other by hiring a car. If you rent a car and go around the city, you can travel as you like. You can go at your own pace.
If you rent a car, you can move at your own pace. There will be no change in your schedule, and you will be able to move. Car rental varies from time to time. This car rental depends on how long you will be traveling.
You can easily rent a car in Toronto. And there are different types of companies for this. You can easily rent a car by contacting them. You can click here.
5. Public Transport
The Toronto Transit Commission (TTC) is the main public transport network in metropolitan Toronto, Ontario, Canada. Operated by the Toronto Transit Commission, it consists of buses, streetcars, and rapid transit lines serving almost all major neighborhoods in the city. The TTC operates all night services, mostly on a network of twelve surface routes and several subway lines. Searching for "Toronto Transit" in Google will give you a lot of results and information.
Public transport is not always comfortable, but it is cheap. Public transportation in Toronto operates from 6 am to 1:30 am. In Toronto, they sometimes delay or even go on strike.
6. Ferry
Ferries are another form of transportation you can use to travel from one part of the city to another. It is quite a common means of transport throughout Canada in various cities.
In Toronto, there are different kinds of ferries like the Toronto Island Ferry and Water Taxi services. Water taxis operate on Toronto's waterfront between Queens Quay and Union Station.
Ferry times usually run every 15 minutes during peak hours and slightly late during off-peak hours. However, ferries are closed in winter. The ferry service is free for pedestrians or bicycles, and charges apply for those using cars, motorcycles, and trucks.
Ticket prices on ferry services
Seniors (65+) $6.12,
For adults (19-64) $7.71,
For youth (13-18), $4.56 and
Children 12 and under can travel free with an adult. Tickets for these ferries can be purchased from the fair vending machines located in the terminal.
7. Biking
Many people like biking when they travel to Toronto because it's a great way to see the city up close. Here you can find many places where you can rent a bike for traveling. If you want to travel alone, you will have to bring your bike with you.
Biking is very popular in Toronto, and many cyclists are out on their bikes every day. Bikes can be rented everywhere in the city at different prices. And you can also easily find bike stands in the city.
8. Bicycle
A bicycle is another option for getting from one part of the city to another. Bicycles are an affordable and effective way of making round trips in Toronto. However, it is not recommended for those who are looking for speed and comfort as bicycles need space to stop.
You can rent a bike from most bike shops near subway stations or check on the signs on some streets. But if you want to go on a big trip, you should use one because bicycles don't take up much space in the trunk.
There are people who prefer to carry their bike on their back and travel with it in their trunk. Always exercise caution while riding a bicycle. It is perfect for you if you are making a short trip. But if you travel far away, then it is difficult for you.
9. Walking
Walking is another option for those who want to get from one place to another in the city. It is cheaper than using public transport and quite convenient as well. You can also travel easily by walking in Toronto.
Toronto walks are beautiful and, of course, very safe. Toronto has so many trees that you can use to walk and enjoy the beauty of this city. Walking is a healthy activity as it keeps you active and keeps you fit.
If you walk around the city, you can move freely. When walking in Toronto, there are many places where you can go for a short walk and rest here for a while. There are many parks available in the city. You can also choose to take a bus ride on one of the routes that run through those parks.
Toronto is quite popular among nature lovers, leading to many green and beautiful places appearing in Toronto. The safest way is to walk, travel around Toronto on foot and enjoy the natural beauty.
Where To Stay In Toronto With Car?
There are many things that you can do in Toronto, but when you want to stay, then there are many hotels and motels available in Toronto. These places provide different types of accommodation so that people can choose according to their needs.
If you want a hotel room, then the most popular hotels are The Hazelton Hotel Toronto, Shangri-La Hotel, The Ritz-Carlton, Toronto, Four Seasons Hotel Toronto, and Bisha Hotel Toronto. Those places provide various amenities like a restaurant, bars, and rooms.
Besides, there are many more hotels. You can choose 4 stars and 5 stars according to your preference. Each hotel has its own facilities. You can talk to them before making a choice.
Do You Need A Car In Toronto?
You don't need a car if you want to travel to Toronto. Toronto has good public transport and cycling is also an option for you. But if you need one, then it is available from many companies in the city.
Depending on the type of vehicle that you want, renting a car in Toronto can be done very easily. You will have to pay a little more than renting cars in other countries, but it is valuable because the roads are wide and the driver can go around fast without any problem.
But you can take the car of your choice if you want. If you travel in a car, then you may face some difficulties because Toronto is one of the most congested cities in Canada. So if you are going on a new trip, it is better not to take your car.
Where Are The Best Places To Visit In Toronto, Canada Without A Car?
There are many places in Toronto that you can visit without a car, and there are many places where you can stay for free if you travel to Toronto. The most popular place to visit is the CN Tower.
There are also many other places like High Park, Fort York National Historic Site, and Casa Loma. You can also enjoy visiting museums, parks, and beaches in Toronto. If you have time, don't forget to explore them as they are worth seeing.
Does Toronto Have Good Public Transportation?
Toronto has a good public transport system so that you can move around the city easily and comfortably. There are many subway, Toronto streetcar, and Buse other transportations system that visitors can use.
You can visit different parts of Toronto by using the subway or train. Public transport is very effective in Toronto, such popular destinations like the CN Tower and Ripley's Aquarium are also accessible from the subway system.
How To Use A Streetcar In Toronto?
Here is a guide on how to use the streetcar in Toronto.
Streetcars are an inexpensive and reliable means of transportation that can lead you nearly anywhere in the city. The TTC runs two types of streetcars, old PCCs, and new LRTs, which provide service on different routes throughout the city. You can ride the streetcar by paying your fare to the driver or hopping on during any stop.
For a complete list of route maps, schedules, and fares, visit the TTC website or call 416-393-INFO (4636). The map below shows how to get where you are going easily. However, it's best to consult a TTC map before traveling on any streetcar line.
Each route has its own timetable and fare structure, so you will have to pay for each trip you make with it.
Conclusion
Toronto is a beautiful city filled with all types of facilities. You can explore many things while traveling in Toronto and the places you can stay too.
Spending a few days in the city can easily get to know the world's second-largest city. It is one of the most dynamic cities, so do not miss it when you visit Canada.
I would like to hear your views if any questions or suggestions regarding this article. If you like this post, don't forget to share it with your friends.
Thanks for reading it!
FAQ
How Easy Is It To Get Around Toronto Without A Car?
Getting around Toronto without a car is very easy as Toronto has a great network of public transport options.
The subway service is excellent. They are clean, have frequent peak-hour services, and are easy to understand. You can use the TTC bus service through all the city's major areas if you want a bus. If you travel with a bike, then you can easily find bike stands in the city.
Is The Toronto Subway Safe?
Yes, the Toronto subway is completely safe. The subway has very good security. That's why it is considered one of the safest subway networks in Canada.
Is The Subway Free In Toronto?
Subway fares in Toronto vary by age. The main subway lines are free for anyone under 14 years old. For those 14 to 64 years old, one ride costs $12.30 (an all-day pass).
Can I Survive In Toronto Without A Car?
Without a car, you can survive in Toronto. There are many buses and other modes of public transport available in the city and also rental cars. A car is not essential to living in Toronto. But not bad if you have a car.
Many people ask this question, where can I go without a car in Toronto? You don't really need a car to get to Toronto. Because Toronto's public services are very good, you can go anywhere in the city without a car.
Is It Safe To Walk Alone In Downtown Toronto?
Yes, it is safe to walk alone in downtown Toronto. In many parts of downtown Toronto, you can easily take taxis, which are very cheap.
Is It Safe To Walk At Night In Toronto?
Yes, it is safe to walk at night in Toronto as most of the areas are well lit, and you will find a lot of people on the streets at night.
Is Union Station Safe At Night Toronto?
Yes, Union station is safe and you can find a lot of police there at night. You can easily walk around the city after dark. Toronto isn't one of the most dangerous cities in Canada.